Jan 17th, 2016
|
Let's start with Sofia Rosé produced by the Francis Ford Coppola Winery in California. This is a great way to give wine to your Valentine. As a wine gift you can't miss with this shapely bottle coupled with Godiva Chocolates. It's the perfect Valentine's Wine Gift.
It has the fragrance of pomegranate, lavender, and orange peels, with the flavors of strawberries, cherries and tea leaves. It obviously goes well with sweets, but is also versatile and can be a great compliment to a variety of foods. So don't be afraid to start the evening with Sofia Rosé and your Valentine's Day dinner hors d'oeuvres.
Now what better day than Valentine's Day is there to break into a bottle of the bubbly? This Valentine's Day gift set features Gruet Brut Champagne. Gruet Brut is a crisp champagne that is perfect when you are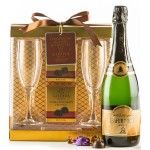 in the mood for a full-bodied sparkling wine. It is also a brilliant champagne with apple and citrus flavors. And to top it off, this Valentine's gift comes packaged with glasses and Godiva Truffles. Who wouldn't want to receive this decadent wine gift for Valentine's Day? This wine gift would put a smile on the face, sweet on the palette and love in the heart of anyone on Valentine's Day, or any special celebration. This is really a no-brainer when it comes to Valentine's gifts.
Love can be in the air and on the lips with both of these Valentine's Day gift sets. No need to run around looking for gifts that sometimes miss the mark. Give wine to your Valentine. These two are real winners for women or men.
Happy Valentine's Day!