Free Shipping on Holiday Wine Gifts!
It's official! Wine.Com just announced that they will offer free shipping on all of their holiday wine gifts, holiday party wines,  and wine accessories. No special code is needed. The Free Shipping offer is more than just in time for the holidays. Wine.Com has really gotten out in front of the holiday season and out from under some of their competitors with this special offer. And if you join their Steward-Ship Program you can receive free shipping for a year.
Here's one of the wine gift sets available in their wine gift collection. This wine collection is called, Wines That Rock Gift Collection. The Wines That Rock Gift is perfect for the passionate wine lover who just happens to be a die-hard music fan. Wines That Rock is creating its own category in the wine industry, and they are being grouped with great tasting wines.
Wine.com is also launching a new assortment of wine accessories.  Out of the thousands of wine glasses and wine gadgets for wine lovers, Wine.Com has selected the top picks from their best selling wine accessories and grouped them all together in their own section of wine accessories for gifts for this holiday season. You'll find glassware, corkscrews, wine aerators and wine chillers from great brands like Reidel, Le Creuset and Vinturi.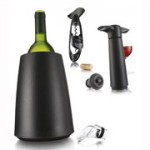 Start enjoying these savings now through Thanksgiving, Hanukkah, Kwanza, Christmas and right into the New Year!
Cheers,
Wine Reviews and Accessories